Details
Resolution 4K
ULTRA HD resolution is 4 times higher than full HD resolution, delivering perfect clarity and deep detail that amaze you, even when viewed closely.
4K Upscaler
Now you'll enjoy the 4K resolution in more ways than before. 4K Upscaler enhances the details of broadcasts, movies and sporting events at a similar 4K quality, thus providing an excellent picture.
4K 3D +
The most comfortable 3D system in the world is also the one that delivers the best 3D clarity at 4K resolution. Featuring 4x resolution, 3D images are splendid, making them more realistic than ever.
Ultra Slim
Now you can enjoy a bigger 4K screen, even thinner. Finally, the 4K image is found on a TV that can be easily integrated into the interior of the house.
CINEMA SCREEN
CINEMA SCREEN is the design of the TV that contributes to making a cinematic experience right at your home. You can enjoy an exciting viewing experience thanks to the minimal frame.
Audio system calibrated by harman.kardon
Premium sound achieves a new level of quality thanks to harman / kardon calibration, which offers an immersive sound experience as well as the visual experience.
ULTRA Surround
ULTRA Surround offers a superior sound experience that will envelop you from all directions. It enriches the 4K viewing experience.
WebOS 2.0
LG webOS TV is designed to be as enjoyable and easy to use. So, all you have to do is relax while webOS creates the most accessible TV experience.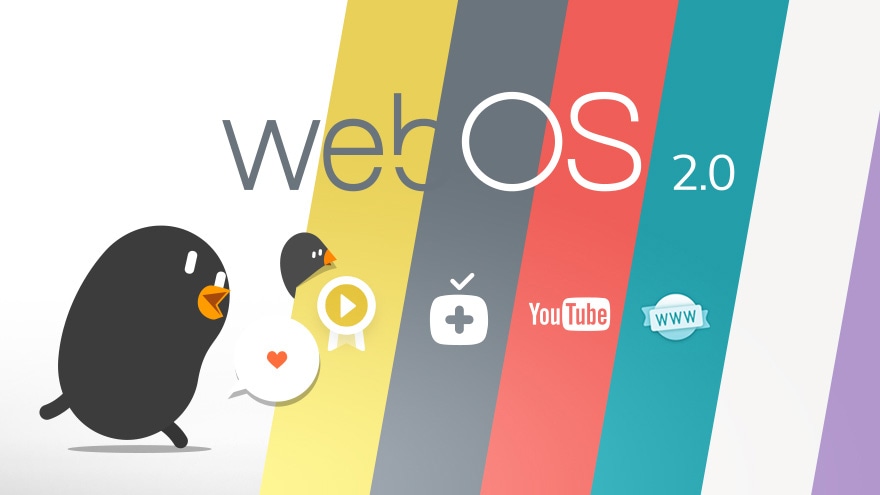 Launcher
You can switch between any application, broadcast, VoD service or connected peripherals without having to navigate to a home screen before. You instantly find any source of entertainment directly from the Launcher.
Smart Share
Instantly access your favorite content and navigate easily with the Smart Share entertainment hub. Discover a multitude of new ways to share content on your smart devices on the TV screen for friends and family.
Magic Remote
Now you have more control over your entertainment sources with Magic Remote. Controlling the TV is just as easy as using a mouse. Spend less time searching for more time watching.

* Magic Remote is included in the package depending on the model.
4K 60P HEVC
HEVC lets you play 4K video files at up to 60 frames per second, delivering crisp motion pictures. Now you can enjoy 4K quality content streaming from the Internet or USB without the need for another device.
HDMI
HDMI also allows the transmission of quality content via external devices.
Compatible DVB-T2
The entire LG 2015 TV range is aligned to the new transmission standard, respecting DVB-T2 standards.

Under European Union regulations, Romania confirmed that on 17.06.2015 it will move from analogue to digital transmission with national coverage.
The transmission standard to be implemented is DVB-T2.
General specifications

| | |
| --- | --- |
| Screen size (inches) | 55 |
| Resolution | 3840x2160 |
| BLU type (Backlight) | Edge LED |
| Micro Pixel Control (Local Contrast) | Yes |
Transmission system

| | |
| --- | --- |
| Cl + | Yes |
| analogous | Yes |
| Digital | DVB-T2, DVB-C, DVB-S2 |
3D

| | |
| --- | --- |
| 3D | Yes |
| 3D Type | FPR |
| Convert 2D to 3D | Yes |
| 3D Conversion to 2D | Yes |
| Supported Format | S / S, T / B, C / B, F / S |
| Auto Format detection | Yes |
| 3D Depth Control | Yes |
| Viewpoint Control 3D | '-10 ~ + 10 (default: 0) |
| 3D Image Correction | Yes |
| Dual Play | Yes |
Smart TV

| | |
| --- | --- |
| webOS | 2.0 |
| Full Web Browser | Yes |
| Launcher | Yes |
| Premium | Yes |
| Apps & Games | Yes |
VIDEO

| | |
| --- | --- |
| Tru 4K Engine | Yes |
| Resolution Upscaler | 4K Upscaler |
| ULTRA Luminance | Yes |
| Triple XD Engine | Yes |
| Tru Black Control | Yes |
| Dynamic Clear White | Yes |
| Natural Color | Yes |
| Active Noise Reduction | Yes |
| Panel type | IPS 4K |
| Dynamic Color Enhancer | Yes |
| Length / width ratio correction | 8 modes (16: 9, Just scan, Original, Full Wide, 4: 3, 14: 9, Cinema Zoom 1, Zoom) |
| 24p Real Cinema | Yes |
| HEVC Codec | 4K 60P, 4K 30P, 2K 60P |
| Picture mode | 9 modes (Vivid, Standard, Eco, Cinema, Sports, Game, Photo, Isf Expert1, Isf Expert2) |
SOUND

| | |
| --- | --- |
| Mono / Stereo / Dual (MTS / SAP) | Yes |
| DTS | Yes |
| Dolby Digital decoder | Yes |
| Speaker system | 2 Way 4 Speakers |
| Audio output | 10W + 10W |
| tweeter | Yes |
| Surround System | Ultra Surround |
| Smart Sound Mode | Yes |
| Sound Designed by Harman Kardon | Yes |
| 3D Sound Zooming | Yes |
| Clear Voice II | Yes |
| Audio mode | 6 modes (Standard, News, Music, Cinema, Sports, Game) |
| Sound Optimization | 3 modes (Off, Stand Type, Wall-mounted Type) |
| Smart Sound mode | Yes |
| Wireless Sound Sync | Yes |
| Optical Sound Sync | Yes |
CHARACTERISTICS

| | |
| --- | --- |
| SIMPLINK (HDMI CEC) | Yes |
| USB | DivX HD / JPEG, JPS, MPO / AC3 (Dolby Digital), EAC3, HE-AAC, AAC, MP2, MP3, PCM, DTS, RA, WMA |
| DLNA | Yes |
| Wi-Fi | integrated |
| LG Bluetooth headset connection | Yes |
| WiDi | Yes |
| DVR | Ready (Digital) |
| WiFi Direct | Yes |
| Miracast | Yes |
INTERFACE

| | |
| --- | --- |
| USB 2.0 | (2) |
| USB 3.0 | (1) |
| HDMI Input | (3) |
| Component input (Y, Pb, Pr) + Audio | Yes |
| Headphone out | Yes |
| CI slot | Yes |
| RF input | (2) |
| Audio input for PC | 1 (Composite in share) |
| RS-232C (Control / SVC) | 1 (Phone Jack Type) |
| SCART | Yes |
| LAN | Yes |
| Digital audio output | Yes |
| Composit input | Yes |
DIMENSION

| | |
| --- | --- |
| Without support | 1234.8 * 727.3 * 50.8 |
| Support included | 1234.8 * 781.6 * 260.6 |
| packing | 1330 * 810 * 152 |
| VESA (mm) | 300 x 300 |
WEIGHT

| | |
| --- | --- |
| Without Support | 19.3 |
| With support | 20.4 |
| packing | 25.9 |
Accessory

| | |
| --- | --- |
| 3D glasses included | 2 |
| remote | Magic Remote 2015 |